This post is for you
Stephanie
because you asked.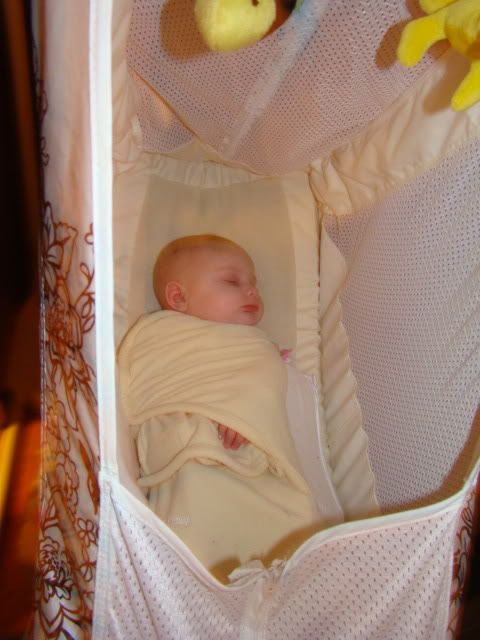 Another quick pic
My hammock is the Arm's Reach Beautiful Dreamer™ Cocoon. I have the Silky Black color/design. There are other color options.
Calleigh sleeps in the hammock for naps and at night time up until she comes to bed with me. Hey we are a partial co-sleeping family. She usually comes to our bed around 2 a.m.
I love the hammock. Calleigh has serious congestion issues (due to asthma) and the hammock keeps her head elevated (safely) to help relieve that. She sleeps MUCH better elevated than she does flat.
You can recline or incline the back of the sleeper so that baby is comfortable when sleeping and if/when awake more inclined to see the world around them .
The hammock moves along with babies movements to help sooth them back to sleep if they startle awake. It gently swings back and forth OR sort of bounces up and down. It does not move side to side.
It came with soft toys that hang at the top for baby too look at.
I will be super sad when she outgrows the hammock. She enjoys it and has used it far more than our older two did the basinette.
The hammock goes up to 23lbs. It is a cinch to assemble and can easily be transported from room to room.
I ordered ours from
Here
Disclosure: I did not get anything for this post. I was not asked by any company to write it or post a review. A reader asked about the hammock from a picture I posted. All thoughts here are my own and I have been giving NOTHING for them.